Time
8:00 pm - 9:00 pm
Cost
Donation
Abundant Pregnancy: Learn to Release Stress, Anxiety and Tension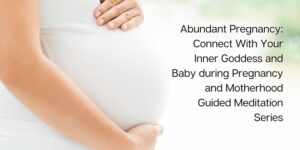 This class is designed to teach you fun and playful, yet deeply healing and relaxing ways to bond, communicate, and practice being present with your baby and your pregnant body.
Beneficial for pregnancy, women trying to conceive, and recent mothers who wish to feel aligned with their peace, intuition, and innate feminine intuition throughout their pregnancy journey.
This class integrates NLP, Hypnosis and Mind-Set Change Processes to clear negative beliefs and create an optimal mental-emotional-energetic state to benefit both baby and mommy.
A Free Abundant Pregnancy Guided Meditation called Cocoon Of Love & Abundance Meditation will be shared after you register. Do you feel scared and vulnerable, or safe and abundant? Join this meditation to surround yourself in a cocoon of safety, fulfillment, and nurturance. In this audio, you will journey from fear or worry to love and security; scarcity to abundance. Envision you and your baby safe from all harm and supported by your loving body.
Learn more about the Abundant Pregnancy Guided Audio and Video Series created by Michelle Alva HERE and Download The Abundant Pregnancy Audios Here Too. This is an investment with life-time benefits for you and your baby! All Audios Are Included when you register with a $40 Or More Donation!
Schedule a one-on-one Session with Michelle Alva HERE.
"Working with Michelle throughout my pregnancy has been one of the best decisions I made as an expectant mother. We started our sessions when I was in my first trimester, and now at two weeks from my due date, the physical, mental and emotional, transformation I have experienced has been incredible. Michelle not only has extensive knowledge about pregnancy, labor and delivery, and motherhood, but as a mother herself she understands the ups and downs of pregnancy. Our sessions were always different and she knew just what I needed in that moment – whether it was reassurance, healing, confidence, relaxation, or working through past issues – Michelle met me right where I was and guided me to inner peace and self love. Without a doubt, I highly recommend Michelle if you are trying to conceive, pregnant, or at any step in the journey."-Amy Molden