14 Sep

Yogiiza's Karma Yoga Class: What Yoga Is All About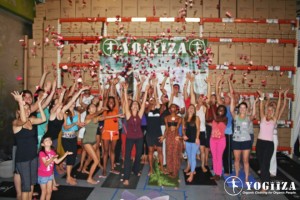 Sharing Is Caring… Wednesday's Karma Yoga Class at Yogiiza…
Every Wednesday at 6:30pm the Yogiiza Unified Program hosts a Karma Yoga class where a yoga instructor shares their practice and style of yoga for free. This allows the opportunity for different yoga instructors in the community to share and connect. Everyone brings food for a community potluck after yoga class and there is also a fun game of ping pong for any takers. I had the pleasure of sharing my latest yoga class creation, Yoga For The Senses, this past Wednesday at Yogiiza Headquarters.
We were blessed while we fed our bellies to also feed our souls with live acoustic music by JP Nez Perce.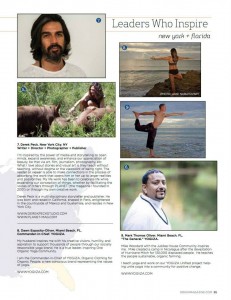 I am so grateful to the powerful couple and CEOs of Yogiiza, Mark Oliver and Dawn Esposito-Oliver for their commitment to co-creating a very soon to be launched organic clothing line that includes eco-friendly yoga apparel and underwear for men and women. They manifest a green sustainable future by using recycled materials and are committed to creating conscious community in Miami through various fundraising, Yogic Retreats and community events such as Yoga+Acoustic Music at The Standard Spa and the weekly Karma Yoga class. Recently, both Mark and Dawn were recognized in Origin Magazine as Leaders Who Inspire.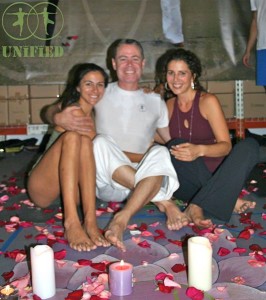 It felt great for me to creative Yoga For The Senses, inspired by my background as an Integrative Yoga Therapist, holistic physical therapist, energy healer and belly dance teacher to  share my style of yoga for the Karma Yoga Class. I wanted people to experience their true essence through the journey we would take for an hour and a half.
I happen to have found a flower shop right before class that had hundreds of rose petals just waiting for me! Candles and a touch of lavender aromatherapy warmed up the yogi-filled space which also included a giant crystal bowl to facilitate in everyone a vibrational sound healing experience.
THE CLASS
Yoga For The Senses awakens you through a series of exercises and movements to a "heightened Self experience," which brings us to more fully experience who we are.
The 37 individuals who attended the class were guided through a series of "letting go" exercises in the beginning to ensure the release of extraneous thoughts, emotions, tensions and stress.
Then the group was guided through a series of circulo-rhythmical vinyasa flows and sun salutations designed to awaken the deep core muscles while also allowing individuals to guide themselves with the intention of going beyond their comfort zone. Individuals were encouraged to close their eyes so they may see more clearly with their inner eyes. This practice strengthens our connection to our intuition.
You Are More Than A Posture.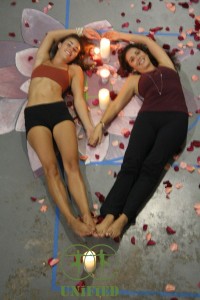 Sometimes yoga students focus too much on what the teacher is doing or on perfecting an asana, that we sometimes miss the joy of our inner experience in the present moment which is what makes the difference between being in a state of union and harmony while practicing a yoga posture and doing a physical exercise that appears to be a yoga posture while trying to perfect it-we stay fixed in our mind when we do that. Creativity in every pose is very healthy and nurtures our soul. How we bring ourselves into every pose reveals who we are and strengthens our relationship to our whole being.
Yoga for me is all about allowing, surrendering and letting go. Only then can we truly open ourselves to the magic and mystery that every moment brings. When we experience a posture, we allow for the true experience of our divine essence to unfold, beyond any words or thoughts.
The group was guided to feel interconnectedness and whole-being integration by allowing the breath to guide their movements. They also partnered up to practice connecting, trusting and allowing, all important themes for our modern times.
We ended in a long savasana where I got to play one of my favorite songs to experience the splendor of our Being called Thank You by David Kennet. The crystal sound healing bowl reminded everyone of their energetic nature, we chanted OM and felt the shifts in energy through our palms from our sacred sounds.
I could feel the full rapture of the moment that was shared by everyone in the room from our collective silence after savasana.
We were awakened to our inner experience and this signaled to me that my intention for this class had been accomplished. We all had arrived to that deep place inside where there is no need for words, what yogis call the experience of Samadhi or Bliss. The room was filled with the highest frequency of love, peace and harmony-the state of unity which is what Yoga is all about.
I had asked Mark to lower the lights and allow the candles to be lit at the beginning of the class, and he informed me he would not be able to film the class if we kept the lights low.
I was actually so happy to see him be able to finally take a class. Mark is so giving! He usually is filming the yoga teacher that is showcased for the week, which makes him miss the complete Karma yoga class experience.
Listen and Honor Your Truth
We all have a divine voice inside of us that guides us to our highest good. That guidance also is conscious of what is for everyone's highest good. All we have to do is let go, to clear our mind so we may be able to listen. That is what the practice of yoga enables us to do, so we can BE more connected to our true nature.
We are able to get clearer "Soul" phone reception though the practice of mindful yoga and meditation.
I had a hard time getting clear reception most of my life, from all the judgements, fears and insecurities I had adopted in my subconscious.
Today I feel so grateful and blessed to have reduced enough the mental chatter so that I may live more aligned to my Truth. I can hear more than ever my soul's purpose.
For me to have arrived to this moment IS the gift and to be living from that place is such a blessing. When we live from a place of truth and awareness that bliss is our inherent nature, every moment becomes a celebration and is appreciated.
I highly recommend you try a yoga class Wednesdays at 6:30pm at Yogiiza. Next week the beautiful yogi goddess Jennifer Pansa will be sharing with us Budokon! In the mean time, listen to this great song written by Mark Oliver, CEO of Yogiiza called YOGIIZA!

Bring a yoga mat, a delicious and healthy food item for the potluck and if you play ping pong… bring it on!
For more information regarding Yogiiza and Karma yoga classes click HERE!
If you took Yoga For The Senses with us, I appreciate and love to know how your body-mind-spirit benefited yoU!!