27 Jan

What Does Yoga Mean To you? What Do You Love About Wearing YOGIIZA Organic Cotton?




Every Wednesday at Yogiiza Headquarters in South Beach, a yoga teacher from the Miami community shares their passion and personal teaching style of yoga by guiding a free Karma Yoga Class as part of the Yogiiza Unified Progam.

Mark Oliver and Dawn Oliver, founders and CEO's of Yogiiza Organic Clothing sponsor this weekly event and workshops like the Upcoming February 23, Empower The Empress For Women I am co-teaching with Yoga Teacher Jennifer Pansa, to create awareness of the benefits of yoga, to build community and educate people about the personal and environmental benefits of wearing Yogiiza organic, chemical-free clothing.

DID YOU KNOW?

According to Mark Oliver, "Polyester or Nylon is made from petroleum. It does not breath. It is highly flammable so it is usually treated with toxic fire retardants   When poly comes in contact with water such as sweat, toxic monomers may be released. If silver nano particles are used to fight microbial infection those nano particles may be extremely hazardous to your health. Our body temperature is higher when wearing materials that don't allow our bodies to ventilate and maintain our moisture. Therefore, our armpit and crotch areas become a heaven for microbes that do not breath oxygen.

Yogiiza Organic Cotton Facts from CEO, Mark Oliver:  "Our tights use 92% organic cotton. Our shirts are both 100% and 96% organic cotton. Underwear is 96% organic cotton. We get our fabric in El Salvador. Our cotton is grown in Nicaragua."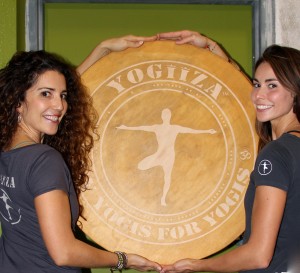 Every Wednesday, Mark videos the class and highlights every Yoga instructor's passions by creating a little video which answers two questions which I invite you to share your answer and comment down below:
1. What does Yoga mean to you?
"Yoga to me is presence, it is a way for us to connect to the moment and to unite all the different parts of our whole human being."
2. What do you like about wearing Organic Cotton?
"I love organic cotton because it is natural, and there is nothing as healing, powerful and yummy as nature!"

I have taught two classes for Karma Yoga- Yoga For The Senses, a sensual yoga class that brings us to a heightened self-awareness with the smell of rose petals, lavender and a series of very conscious postures and sequencing to feel how amazing our body-mind-spirit moves energy!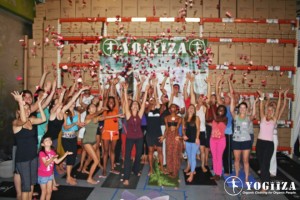 Back in December, I guided Wednesday's Yogiiza Karma Yoga Group through a Yoga Style that blends my background in Yoga Therapy, Physical Therapy and Energy Medicine with a series of postures called Awaken To U Yoga For Modern Bodies. This blend teaches you how to activate your core, expand your energy and lengthen specific muscle groups that weaken and tighten for people who spend a lot of time sitting.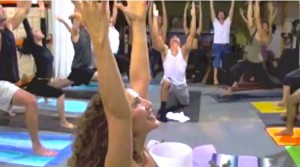 I was wearing my Yogiiza organic yoga clothing for the first time ever while teaching this class and I have to say, it felt freer and as though I was not wearing any clothing at all! Have you ever worn 100% organic and natural cotton Yogiiza Yoga clothing to practice Yoga?
In the past I have worn BeyondYoga and Lululemon while practicing yoga.  Yogiiza Organic Clothing underwear, bras and clothing feel so different! Yogiiza Organic Cotton is the softest, lightest and most BREATHABLE yoga clothes I have ever worn! I feel I sweat much less when wearing my Yogiiza clothes and honestly, I don't feel like wearing anything else now during my yoga practice! I wonder what other people feel when wearing Yogiiza organic clothing? Please comment down below and us know how these different types of yoga clothing materials make you FEEL?
Mark and Dawn Oliver have put a lot of thought, time and energy into manufacturing 100% Organic Clothing and literally are growing their own cotton in South America! I salute his amazing couple for creating a company that is ec0-conscious using recycled packaging materials and a high-quality product that nurtures everyone who wears it!
Come join us every Wednesday at 6:30pm for Karma Yoga Class at Yogiiza Headquarters, and bring a healthy food item for potluck and ping pong after class!
Thank you Mark and Dawn for raising consciousness about how we can produce products that don't harm our environment or bodies and how we can wear clothes that is healthy for our skin and allows us to breathe as nature intended.