Singing, Loving And Celebrating Oneness at Friday Shabbas Service led by Rabbi Marc Labowitz…
I am so excited to be singing with Rabbi Marc Labowitz and the TAO Orchestra. TAO stands for Temple Adath Or and also Together As One.
I met Rabbi Marc at Michael Rosenfeld and Chana Michelle Rosenfeld's wedding. He was the Rabbi who married them. As I stood watching him speak so lovingly to them both, I felt a yearning in my heart, calling me to somehow connect with Rabbi Marc and go to one of his events.
I had remembered that Rachel Levy and him had done an event a while back and I had wanted to go but was not able to.
I was looking for a spiritual community as I am recently divorced and wanted to practice and praise God in community and bring that community also to my daughter.
I was searching and finding it within my own heart, from all the time spent healing from my divorce and adapting to the changes that being a single mother brings.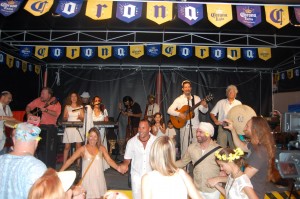 Michael Rosenfeld invited me in March to attend a gathering of spiritual leaders for an event he was inspired to share called Awaken To Oneness.
I met Rabbi Marc again there and he was so loving and wanting to hear more about a recently released guided meditation CD I had created.
He asked me if I sang also and that he was looking for people to sing in his TAO orchestra. I told him I actually love to sing, and sing all the time. I sing everyday to feel joy and because I love to dance and listen and feel music. I also use sound and vocal toning as a way of moving emotions, and healing. I share these techniques when I work as a healer. I find it helps my clients extremely well for them to also sound their emotions and feelings. Self-expression through sound is so powerful.
Conscious breathing, music, singing and dancing are all tools that I use to heal and it is all a part of my inner medicine. All of it I used this past year to help me to shed a lot of emotional baggage I held on to for many years.
I attended a practice session with the TAO orchestra, that was in the forming stages. They welcomed me and were so happy that I showed up to sing with them. I felt as I was with my brothers and sisters of a long time ago, reunited.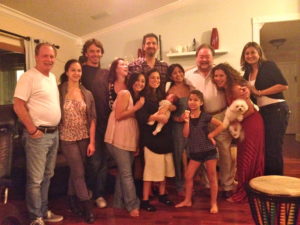 Rabbi Marc introduced me to the diverse individuals who make up the TAO Orchestra at our first rehearsal at Rabbi Marc's home. I was welcomed first by Rabbi Marc's wife Paulina and so inspired by her beautiful voice and her amazing ability to play so many different instruments. She is a powerful woman that is so playful and wise all in one. 
TAO Orchestra pianist and lead singer Maria Romero Daszkal has the voice and soul of an angel, if a cherub could sing, it would sound like Maria.  She taught me how to pronounce the hebrew songs.
Bob Heaton, our lead guitarist welcomed me and left me in awe at how beautifully he has combined rock and soul into sacred Hebrew songs.  Richard Wolfe and Laura Lerner welcomed me and helped me to feel the beat of our songs with their amazing drumming abilities. I have the pleasure of singing alongside of Thais Fernandez and Princess Jagarnauth, two amazing women that together with Rabbi Marc, Maria and Paulina, we create a beautiful singing harmony. And I have to mention Andy Iannocco, a beautiful angel that guides us and helps us to be better.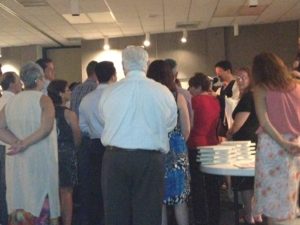 Together we sing on Friday Shabbas Services for Temple Adath Or we praise the God inside of us, the God that is here on earth, that lives in every living being.  TAO is all about feeling the God experience inside of you and feeling that with a community of people that are all feeling the same with-in and with-outwardly. It is about remembering who you are and coming back home to that place inside of you that you knew so well when you were born, and as a child, before the conditioning and sub-conscious entrainment took over. During Shabbas Service, Rabbi Marc repeatedly asks the "audience", the people who come to "come closer friends", "come closer". We are an intimate group, how beautiful! We are actually practicing Being more connected and one, not just listening to a spiritual guide's words or preachings. Every person IS a part of the service.

This is why TAO resonates with so many, why people of all religions are coming to celebrate the GOD that we all are, that is nature, that is the life force that permeates through all of us.
This is how, I, a "shiksa" am so excited and honored to be an official TAO member now and sing with the TAO Orchestra.  My Catholic-Peruvian born parents are not really sure about what to make of their daughter's new found love of singing and praising with TAO, but they see how much excitement and love it has brought me and accept it. I for one, am living to the beat of my soul, and feel so free and alive to be a part of this conscious spiritual community.

 When I sing with TAO, I feel my soul is what is singing, that my whole BEing is my musical instrument. I align with the intention of these beautiful sacred Hebrew chants and musical melodies created by the TAO Orchestra and I feel Divine And Universal Love flowing through me with such a powerful current.

Last night, I felt my heart open more and more as the service progressed. There were different clergy from I think 6 different religions. Rabbi Marc's and Paulina's new born son, Kol Kerev, received a blessing from all different faiths and religions.
The love and oneness I felt last night in that room at Art Serve was so pure and powerful.
I realize how magical we all are, how when we let down our beliefs about separation, how powerfully we can all feel, connect and heal.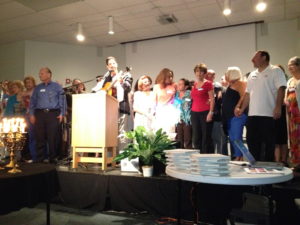 I work as a healer and witness healing everyday.  Last night's Friday Shabbas Service led by Rabbi Marc was such a powerful healing session.  When we unite as one with hugs, singing, dancing, praying, playing music, it brings us back home to the experience of our true nature.  No mind altering substances or electric equipment is needed, except for the microphones!
We are all so powerful and miraculous when we allow ourselves to open our hearts and receive the love that is already there inside of every one of our hearts, and when we unite in just BEing that love, WOW!!! Powerful!!!
I have gone to hundreds of spiritual events in my lifetime , visited hundreds of healers and read hundreds of books on spirituality.  Turns out, I don't have to go to India or the Himalayas… the most sacred sage and teacher resides within me. When I connect to the I AM, there I find God, there I find Nirvana and Samadhi-Oneness and Love IS my true nature, when I allow myself to be vulnerable, to reveal my truest feelings. I became one with all last night, I sat there in awe of the moment.
I am so moved by the experience that I could not hold it in, I had to share it with you today!
I am so grateful to this Universe for placing in my life all these people that I have met this past year, and all the people before this year, that led me to this past year, where I have found my Soul Self in harmony with my physical and mental self. I feel so whole and in love with life.
We are all living a life that is meant to bring us back to our wholeness experience, our spiritual paths… we walk different paths, need different things to get there, but all paths take us to the same place-within… within is where God is, it is a feeling, I feel it in my whole body, but it definitely helps to open your heart and let it all in. LOVE.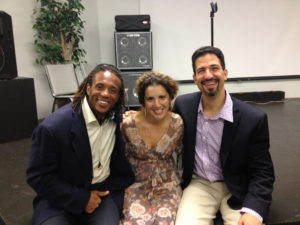 Thank you Rabbi Marc Labowitz for empowering us all and reminding us to always look within.
Regardless of your beliefs or religious practice, TAO Center is all about celebrating the GOD that lives in yoU. 
Experience your soul's vibration in a beautiful way that unites spirituality with dance, singing, music with a message of unity that brings you back home to that place inside where we all feel our wholeness and perfection.
Next Friday Shabbas Service is Friday, August 31st at 7:30pm.
Visit http://www.taocenter.net for more information.
Join us on Facebook at https://www.facebook.com/TAO.JewishRenewal.Kaballah
FYI: "Shiksa is a Yiddish word that refers to a non-Jewish woman."