This past weekend I had the pleasure of attending the Oprah's The Life Your Want Weekend. Two days shared with thousands of like-hearted individuals in the Miami Arena. Oprah asked us "why are you here?" What is your intention in coming? So that we can get the most out of these two days.
Her mission in life she shared with us is to bring out in each of us, the highest version of soul-connected selves. That to live a life of true "sustained happiness" we must live conscious and aware of what we truly are (a soul in a physical body, having a human experience) and to choose love instead of fear, to choose compassion instead of judgement, to choose what is truest for our hearts instead of what others wish for us that might not be aligned with our truest calling.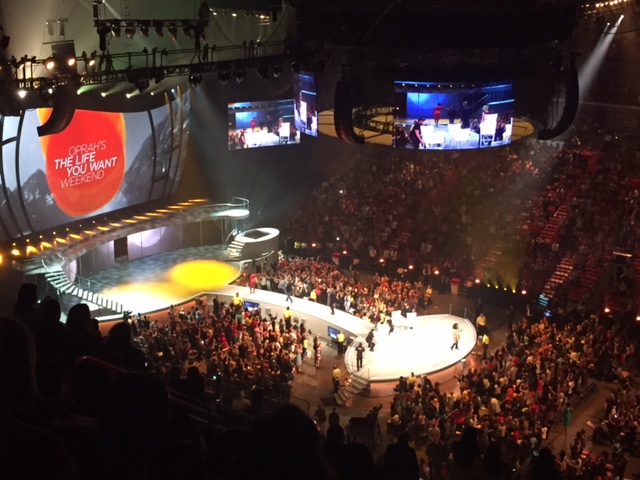 It is so helpful to constantly be "a student" of life, to take in all the blessings that every moment brings, and see them all as opportunities to grow.
I am forever grateful to myself for having invested the $200 in myself this weekend. More than ever I am inspired to complete writing the healing and sensual book for women I have felt wanting to be birthed inside me and wanting to come out of me.
Oprah invited Deepak Chopra who led us in a "Life You Want Meditation" and reminded us that to experience our soul, we must cultivate awareness of the "space in between our thoughts."
Elizabeth Gilbert, author of Eat, Pray, Love reminded us "the quest", and how we all go through similar journeys, and it's truly how we walk through ever phase that leads to joy and living a richer life.
Rob Bell, author and preacher, reminded us that "everything is spiritual", that every moment is a sacred experience, all are just as meangingful and to appreciate and walk knowing that we are Divine beings.
Iyanla Vanzant, walked in with a bright red dress and her sassy style to remind us to toast "to life" and sip in every moment life brings us with a smile and knowing that we are so loved and cared for in life.
Double-amputee Amy Purdy inspired us with her story of relentless optimism and seeing herself already healing her legs, and snowboarding "as she was being wheeled into the operating room" to have her legs amputated. This woman exudes courage and perseverance! She also introduced Estella Pyfrom, a deeply loving and caring teacher who gave $1 million dollars of her life savings to create a bus that brings education to underserved children in the form of her inspiration, computers, and technology. Toyota donated $25, 000. to Estella's cause and Oprah matched it! What an inspiring moment! Read more HERE.
After lunch, we got to energize our bodies, minds and soul's with Soul Cycle's Julie Rice who took us on a journey to going beyond our perceived limits.
What an AMAZING weekend!
All we have to do is CONNECT within-to the soul that is always listening and speaking to us, if we just MAKE THE TIME TO LISTEN.
As I reflect on what Oprah said, to give ourselves through service, I think of how my voice is used to heal and empower individuals on how to energize, de-stress and release pain and tension in the guided meditations that you can listen to for FREE HERE. I wrote these after my divorce and they helped me to heal, feel and rinse away the past. They are science based and connect us to our soul, our essence. People can listen for free or download them for a nominal fee.
I also share my gifts of intuition, and how to activate our healing and love hormone by guiding individuals on how to listen, how to hear the subtle voice of our soul and intuition, and how to clear away the baggage, the past, the old and outdated in us, so we feel ligher and more connected to our Truest, and most authentic Soul self.
Contact me for a one-on-one release of emotional-physical-energetic tension and pain followed by a manifest and re-birth YOU session. I work with people in person and also via phone or Skype. Go to www.michellealva.com to get for FREE "Top 10 Tips For A Stress Free Day!" and start to live lighter NOW.
Let's share all our gifts in as many ways as possible, when we do this, we get to function in the highest service to all, which is according to Oprah, "why we are here" and look at what she has done with that belief!
Let me know how you enjoyed Oprah's weekend event and how it benefitting you! Share this blog post with a friend, and spread the love!