Time
7:00 pm - 9:00 pm
Cost
$35 in advance $40 at the door
Yoni Healing and Sexual Empowerment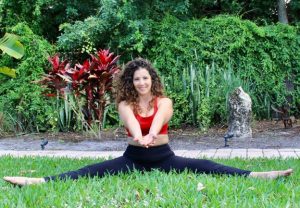 Would you like to feel more connected to your root and sacral chakras physically, mentally, and emotionally and energetically?
The word Yoni is a Sanskrit word that means "sacred space" and refers to the female genitalia.
Many of us sit 6-8 hours per day or more and have become stiff or blocked in our low back and hips, and according to statistics, 1 in 3 girls in America are sexually abused before the age of 18.
"Yoni Healing and Sexual Empowerment Yoga For Women," is a two hour magical journey where we will expand our whole bodies and connect our hearts with a special emphasis on deepening our connection to our womb space, to our yonis and to clear any blocks, process the past, and energize our Root and Sacral Chakras so we may feel more supported, receptive, sexually and creatively enriched.
Here is what you will learn and EMBODY in your experience:
1. How To Release Emotional, Energetic and Physical Blocks, Stress, Pain and Tension that get in the way of feeling free, open and connected to our natural sensual radiance and glow.
2. Sensual Self-Pleasure Yoni Healing and Empowerment practices.
3. Awaken Your Sexual Energy and get in touch with your Sexual Body Anatomy.
4. Shift Your Mindset About Your Root and Sacral Areas with NLP/Hypnosis based cues.
5.Embrace vulnerability as your super-power in a supportive environment
7. Prepare the body and flow your root and sacral energy with yoga asanas and Tantric breathing exercises to prepare us to experience whole body orgasms.
8. Experience Tantra Magic: how to receive more abundance, wealth and
prosperity in your life.
9. How To Strengthen and Relax Your Pelvic Floor with the use of Yoni Egg and Wand.
10. The use of DoTERRA® Essential Oils to nurture our womb health, and to raise our libido. Each participant will receive a Aphrodisiac oil as a gift.