Date
May 28 2020
- Jun 07 2020
Time
8:00 pm - 10:00 pm
Cost
$397 Special Rate For First 10 Participants who register (Regular $594)
Wild Women Of Abundance 11-Day Online Experience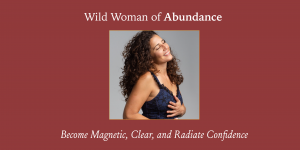 Wild Woman Of Abundance: Become Magnetic, Clear, and Radiate Confidence
Join me through an 11-day online journey of self-discovery, from pain and tension, worry or shame to pleasure, ease, and living from a place of joy and feeling more than enough in all areas of your life.
Do you feel stuck in your life?

Are you feeling disconnected, overwhelmed, anxious and worried these days?

Are you living in survival mode?

Would you like to feel freer to be yourself?
I hear you. And love, I've got you.
I am here to hold space for you as you discover how to unleash and own your creative, feminine power, which many of us women have suppressed, ignored, or didn't even know we have inside us.
During our virtual journey, we will:
Heal your limiting beliefs about yourself, your life, and your worthiness and learn to receive and embody abundance

Create an Abundance Mindset

Release the need to be perfect and controlling, and feel comfortable with yourself

Get in touch with your inner genius and your authentic voice

Say goodbye to self-doubt and open up to trusting your inner wild woman, your inner goddess

Learn how to expand and harness creative, sensual, sexual energy

Feel confident with how to attract more abundance and live "in the "flow."
What You Get To Receive After Joining Wild Woman Of Abundance Online Journey:
Day 1: May 28 Thursday at 8pm – 9pm ET Abundance Activation Group Virtual MasterClass via Zoom: Abundance Mindset Change Experience and Release of Scarcity and "Not Enough."
Day 2: May 29 Friday Self-Love and Abundance Meditation Activation Practice with Journaling what you are grateful for.
Day 3: May 30 Saturday Embody Abundance Self-Love Massage Ritual with yourself at home.
Day 4: May 31 Sunday 12pm ET-1pm ET Abundance Activation Group Virtual MasterClass via Zoom: The Power of Our Words
Day 5: June 1 Monday Abundance Breath Activation and Body Love Pleasure Practice on Your Own At Home
Day 6: June 2 Tuesday 12pm ET Abundance Yoga Activation Group Virtual MasterClass with Guided Sex Magic Experience
Day 7: June 3 Wednesday Abundance Activation: Embody Your Dream Life Meditation
Day 8: June 4 Thursday 8pm ET Abundance Activation Group Virtual Masterclass via Zoom: Essential Oils For Enhanced Creativity, Libido, and Prosperity with Special Guest Jennifer Pansa.
Day 9: June 5 Friday Abundance Activation: Embody Love Massage Ritual with yourself at home.
Day 10: June 6 Saturday Abundance Activation: Feel "As If" Body Love with Massage and Wild Abundance Oil with yourself at home.
Day 11: June 7 12 pm ET-1pm ET Abundance Activation Masterclass via Zoom with Yoni Healing and Yoni Egg Ritual
BONUS Abundance Activation Classes: May 17 Sunday at 12pm ET Masterclass: G-Spot Orgasms and More
Five one-hour Abundance Activation Group Sessions via Zoom on these dates:
May 28 Thursday at 8pm ET-9pm ET
May 31 Sunday at 12pm ET-1pm ET
June 2 Tuesday at 12pm ET-1pm ET
June 4 Thursday at 8pm ET-9pm ET
June 7 Sunday at 12pm ET-1pm ET
30-minute Abundance Activation Session with Michelle before May 28.
Next Step:
For more details or to register for the course, contact me at michelle@michellealva.com. I can't wait to journey together and unleash your inner wild woman with you! Join the movement of awakening women to their power.
Investment: Space is limited. First 10 people who register receive a 50% discount on the total investment which is now being offered at a reduced rate of $397 ($794 Regularly).