Time
7:30 pm - 9:00 pm
Cost
$25
Tantra Yoga for Women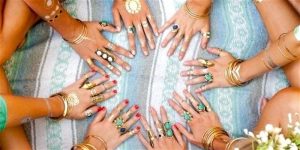 We are creating a conscious group of women, interested in exploring and awakening their sexuality (life force energy) through Tantra Yoga.
About this Event
In this class, offered every other thursday, we relax and explore the world of the sacred feminine in a playful warm atmosphere of sisterhood.
This week's Hot topic is THE ENERGETIC TOUCH
We will be opening with a Sound Healing Meditation by Amy Slay.
Naomi Slater @ Divine Couples.com and Kathrine Gasc @ www.HipTantra.com will be explaining and guiding us into the different types of energetic touch and how it activates our life force energy.
Michelle Alva will share the benefits of essential oils to enhance women's health and womb healing and expand our sexual energy. Aphrodisiac oils will be given to the participants. www.michellealva.com
Tali Aviram will be playing drums so we can dance and open the shakti energy.
We look forward to seeing you!!!
Wear something feminine and comfortablebecause we LOVE to move!
Bring things you would like to share: a poem, a flower, clothing you don't need anymore, an instrument, a hug 🙂
Private message for address. (305) 6066724
In this class:
~ We meditate, do breath work and move to open the body mind and heart.
~ We talk about subjects that are considered taboo and understand more about our own se$uality.
~ We learn about what conscious intimacy can bring to our life.
~ We burn away fears, blocks, insecurities, shame around our bodies and se$uality to live a life of freedom and joy.
~ We develop our ability to express our needs and desires.
~ We understand boundaries and how to apply them in our life.
~ We fall in love with ourselves as we are and activate our energetic body
~ We experience the nurturing loving authentic bond with other women.
~ We play, giggle, share stories and forget about all the worries of the world for 2 hours.
All ages welcome, single or in a relationship. We meet in a private home
The class is facilitated by Kathrine Gasc from www.Hiptantra.com.
and Naomi Slater from Divine Couples at www.divine-couples.com
T♡ntra is also called the ancient art of love. The word in Sanskrit means expansion, weaving of the feminine and masculine energies to reach oneness. Sexual energy is seen as sacred, it is our life force energy that enables us to heal, feel alive and passionate.
Sexuality is often a taboo subject that can be scary for a lot of people yet it is such an important part of our lives. Let's face it, we all come from an orgasm so we might as well embrace it and take advantage of this orgasmic energy that is accessible to us humans.
Kathrine has been practicing and teaching T♡ntra for 12 years with her husband Serge of 20 years, helping men and women, single or in a relationship, awaken their sensuality and deepen their love for each other and live a life of passion with a simple, playful method. Kathrine is a certified T♡ntra Educator, NLP practitioner, Reiki Master, Yoga & Fitness Instructor, Kitesurfing champion, Community Leader. She is very excited to share her wisdom and love for this sacred work in this class for women.
Naomi has been practicing T♡ntra for 5 years and teaching Yoga for 15 years. T@ntra transformed her relationship with her husband Navot and they work with couples and individuals to help others reclaim their passion and se$ual power. Naomi is a certified T♡ntra Therapist, Yoga Teacher, Bio-Energy and Reiki therapist. She holds a B.A. in Psychology and an M.A. in Conflict Management and Resolution. She is passionate about creating a safe space for others to heal and awaken their consciousness. She is dedicated to giving other women the tools to explore their se$uality and tap into their life force energy.