How To Live In Peace: A FE:AL® Experience – ONLINE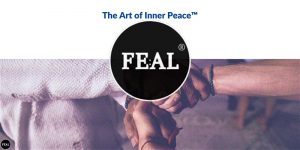 FE:AL® is a lifestyle practice that teaches your body to tune into positive sensations for calm and peace. Join us online for an experience.
About this Event
Have you been feeling a little extra anxious or worried lately? Especially with all this news of the Corona Virus… imagine taking an hour out of your week, closing your eyes and feeling a deeper state of inner peace, which is a great way to start the week…
Join Luigi Pissani, Creator of FE:AL® via zoom or via phone March 23 Monday at 8pm To 9PM ET for a magical journey back to inner peace. The class will also include restorative sound healing with Michelle Alva.
FE:AL® is a lifestyle practice that teaches your body to tune into positivesensations for calm and peace.
Taught individually or with small groups, this practice teaches you to communicate meaningfully with the signals constantly being sent to your body.
Rid Mind and Body of Any 'Fear of Movement'
Restore Presence and Awareness
Reduce Social Anxiety & Relieve Stress
Inspire Positive Thinking & Enhance Trust
Boost Immune System & Lower Blood Pressure
Restore Parasympathetic State
Stimulate the Nerve Connecting Brain and Body in a Fun and Interactive Way
About Luigi Pissani, MS, Founder Of FE:AL® :
After earning both a B.S. in Exercise Physiology and an M.S. in Strength and Conditioning at the University of Miami, Luigi developed a unique perspective turned lifestyle practice that addresses physical pain, limiting beliefs, traumas and somatic behaviors as they couple with stress and everyday life activities.
Clients from all walks of life inspire Luigi to share a state of grace that we can all welcome more of in our lives.