Time
3:00 pm - 5:00 pm
Cost
$50
Awaken Your Energetic Body to Whole Body Orgasms-Live In-Person Event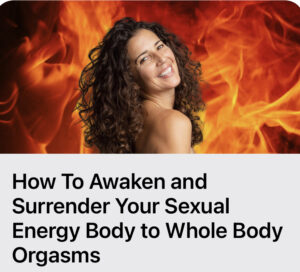 Join Michelle Alva for this powerful experience in person to awaken your sexual/magnetic and creative energy.
About this Event
Did you know? Orgasm leads to feelings of euphoria and pleasure which reduce stress, depression and anxiety levels, thus boosting the immune system. Orgasm is also known to burn calories, promote relaxation and release tension, which can improve your sleep quality.
Are you experiencing more anxiety or worry with everything going on in the world?
Has sex and pleasure taken a back seat in your life?
Maybe pleasure and sex is not on your priority list, however experiencing the pleasure of your energetic and creative sexual body with your heart and soul connected has many benefits for you and your relationships. Learning how to experience energetic orgasms is a metaphor for how we bring ourselves into our lives. Tantric breathing and deeper connection exercises with yourself, or your partner, has many benefits for the brain, body, nervous, and immune system.
Men and Women Are Welcome To Join this Masterclass and Bring Your Partner for extra fun on a Saturday.
Investment is $50
We can experience even more fulfilling and energetic/ecstatic orgasms when we learn how to harness our sexual energy through Tantra. Explore Breath, Movement and Sound in this Live MasterClass Via Zoom and allow Michelle Alva, Tantra Practitioner and Intimacy Coach, to guide you to release emotional blockages, tense parts of your body and connect to your sexual energy.
This energy IS our creative life force energy. When we learn how to surrender and allow this energy to flow through us, we get to experience the magic of Being in the "Flow State" which allows us to also be magnet and powerful attractors to our True Heart's Desires. This is also a powerfully cathartic and emotionally releasing experience. Whole body orgasm also supports the awakening of our spiritual connection, higher states of consciousness, and bliss.
Can you envision these next few weeks as a time to master the art of pleasure, sexual empowerment, and living as an energetic and radiant being so that you may experience a deeper state of calm, joy and peace in everything you do?
Join Michelle Alva, NLP/Hypnosis and Tantra Practitioner via Zoom, for a fun and uplifting journey to experience the dance of energy of creation!
You will receive a powerful video created by Michelle Alva, after you register called "How To Whole Body Orgasm" to get your warmed up on what to expect in class.
This class is very intimate and is ideal for beginners to enjoy from the comfort of your home.
Make sure to have an oil to do self-massage, and sensual self-pleasure practice portion of the class, and message me if you would like to order Wild Lust Aphrodisiac Essential Oil and Roller. CLICK HERE to learn more about this powerful oil and you can order via Venmo for $38 @michellealvasoulconnector to receive before class. Watch the video Below to learn a Self-Love Ritual WITH Wild Lust Aphrodisiac Oil before the class. The more you are prepared for this experience, the more powerfully expanding it will be for you!
And if you have a partner or would like to manifest a partner, CLICK HERE to download Deeper Connection: Intro To Tantra For Couples Video Series
If you would like to learn more about Tantra, schedule a Tantra Session with Michelle and CLICK HERE to receive Deeper Connection: Intro To Tantra For Couples.