Full Moon Abundance Mindset Activation: Open Up, Release To Receive More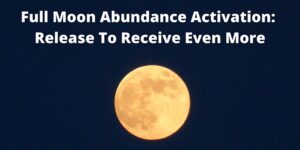 Learn how to elevate your energy, clear your mind and open up to receive more with an Abundance Mindset, go from lack to abundance.
About this Event
Do you ever feel not enough?
Do you go to sleep at night worrying about money, relationships, or the future?
Imagine waking up every morning feeling safe, supported and significant… that you are more than enough, and that you have more than enough… join Michelle Alva on the Full Moon Monday August 3rd, for a Complimentary Class of Empowerment… if you are tired of playing the victim role, and are ready to be victorious, this class is for you!
Michelle is the creator of Wild Women of Abundance, a 10-Day Online Experience she has taken women on with amazing results. This class on August 3rd, is for men and women, who are wanting something more out of life, out of themselves. If you are tired of getting in your own way, let's flow together, and free ourselves on this gathering.
Michelle feels so grateful to have discovered effective and efficient ways to shift our mindset with our body and our vibration… she created the Alva Method after working 23 years in integrative healing and empowerment approaches… enjoy a powerful hour where you get to remember who you are… Powerful Beyond Measure!
Join Michelle Alva at Wild Women of Abundance Facebook Group HERE.
And connect with her on You Tube at MichelleAlvaTV
Instagram @michelle.alva.love
And listen to her awesome meditations on InsightTimer HERE.