Time
12:00 pm - 1:00 pm
Cost
DONATION
Emotions and Essential Oils Virtual Class Via Zoom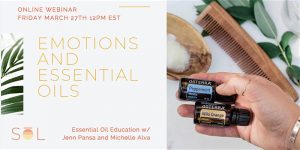 Learn how Essential Oils Support Healthy Emotional Health and How To Clear and Process Lower Vibration Emotions using Essential Oils.
About this Event
Did you know that certain essential oils can actually help us to evoke a certain type of mood and elevate our emotions?
Can you remember the last time you smelled jasmine, lavender or rose and how good it made you feel?
Essential Oils can also help us to process and release certain lower vibration emotions such as shame, guilt, resentment, worry, or anger/sadness.
Join Jennifer Pansa and Michelle Alva, DoTERRA Wellness Advocates for a very empowering one hour virtual class to teach you how Essential Oils Support Healthy Emotions.
After you register for this class, please email pureselfinc@gmail.com and share wtih us your primary health concerns along with 3-5 primary lower vibration/negative emotions that you feel you would like to process and clear to maximize the benefit of your class experience.
This Spring time is supporting us to clear, to let go and release what no longer serves us. And too often we are holding on to memories or emotions from the past like resentment which lower our mood and make us feel more stressed out.
Essential Oils made by DoTERRA® are natural plant based medicine which can assist us in cleansing our aura, releasing the weight of heavy emotions and uplift our mood so we can process stress with more ease and feeling supported naturally.
Join Michelle Alva and Jennifer Pansa on an emotional self-care journey with rituals to embody more love, confidence and feel empowered throughout the day. You will learn valuable strategies to process and flow on your way to emotional freedom.
Come back to the True You, the Clear You, easily and rapidly with these safe, effective and fun techniques!
INVESTMENT: Donation Based Class
Online Class via Zoom.