Date
Nov 29 2020
- Dec 20 2020
Time
8:00 pm - 9:00 pm
Cost
$497 for first 10 participants, then $597
Self-Love Journey: Learn To Love Yourself First and Live Fulfilled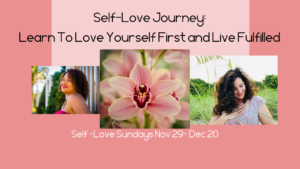 Do you do a lot of things out of obligation or guilt?
Are you a person who loves to give and isn't "as good" at receiving?
Did you ever feel unworthy or that you did not matter when you were growing up as a child?
Self-love and self-acceptance first is key in developing healthy relationships with others. Yet so many of us put others before us! I know well how this works, as I lived my life trying to get love from outside myself.
I thought I had to do things for others to love me, that love was something you get outside of yourself. I did not like to be alone, and thought that I was not enough just simply being myself, for people to stay and be my friends. I made up all these "lies" as a child, which then led me to treat myself in a way that I was hard on myself, judgemental and lacked compassion.
I remember criticizing my ex-husband for working to many hours, he was doing a fellowship in medicine and I was raising our daughter. Instead of me being grateful for all his hard work, I would complain because I was so tired and not taking good care of myself. I remember being very harsh on him, and irritable with him. I would constantly nitpick and criticize my ex-husband. I was really hard on him, which ruined our ability to have deep intimacy and connection! I used to blame him for everything. And then after my divorce, I realized I was very unhappy inside, and felt unlovable due to old childhood wounds. This made me realize that I had to learn how to love myself in a healthy way so that I can have a healthy relationship in the future.
When we seek love or approval from outside of ourselves, this form of love I experienced, is called Co-Dependent Love, and actually is not a healthy Love… yet my whole journey led me to create the Alva Method, a process of self-discovery that teaches you to connect deeply to the present moment, align to your heart and soul and create heart coherence, and awaken your intuitive body.
It also led me to decide to Marry Myself, last year in June. I bought myself a ring, and felt compelled to make a commitment to myself, to my heart and soul, that I was no longer going to treat myself like a doormat.
Join me for A Deep Dive into learning about the Love Hormone, Self-Care and Self-Love Rituals and closing our last week with a Marriage Ceremony, where each participant will have a ring to commit to and marry herself, from a place of deep love and profound compassion, and self-acceptance.
WHAT YOU WILL RECEIVE:
1) One Half-Hour Self-Love Private Session with Michelle Alva ($125 Value)
2) Release and Heal Audio Course and Inner Child Healing Meditations (Total of 8 Meditations To Listen to these 3 weeks) To Heal our Relationships with Our Past, Our Parents, and Empower Our Inner Relationship -Heart and Soul, to open the heart and release old hurts from the past ($97 Value )
3) 4-One Hour Virtual Masterclasses on these dates: Self-Love Sundays Nov 29, Dec 6, 13, and 20 from 8-9pm ET. ( $1000 Value)
4) For All Non-Doterra Members: A Doterra Diffuser, One Year Membership, and 10 DoTERRA Essential OIls. ( $180 Value)
More Information and Registration Email Michelle at michelle@michellealva.com
Investment ( $1400 Value):
First 10 People Who Register $497 , after that $597
Investment Includes: One-on-one Private Session via Phone with Michelle, 4-Week Online Journey including 4-Live Virtual Masterclasses, Meditation Audios To Support The Self-Love Journey, 4-Live MasterClasses, and Doterra Oils, Diffuser, and Membership for non-members including access to private Facebook Group.
—————–
ABOUT THE PRESENTER: Michelle Alva has spent the past 24 years studying and practicing a variety of health, healing, and wellness modalities that unite science with ancient healing practices to provide a highly effective and easy approach to healing. She developed a community for empowering couples and individuals to live consciously and explore sex and sensuality from an intuitive perspective. With a background in hypnosis, NLP (neuro-linguistic programming), Time Dynamics®, pelvic floor and women's health physical therapy, tantra and sexual trauma healing, integrative yoga therapy, sound healing, PSCYH-K®, mindfulness-based meditation, belly dance, and shamanism, Michelle created The Alva Method® Of Healing At The Speed Of Light (which embraces both modern science and ancient wisdom practices to create "major healing with minor effort"). Her clients go from a 9/10 pain to zero many times in just one session. This neuro-muscular-emotional-energetic approach seeks to integrate, balance and empower your whole-being. Michelle's soothing energetic presence will captivate your audience's attention, open their minds and speak to their soul. Michelle recently created a sex-education class online called Conscious Sex 101, which is a group course to empower individuals to live a more fulfilling sex life and empower them to deepen self-love and embrace all of who they are, which includes their sexual and sensual body.
If you would like to learn more about how to work with Michelle Alva, Self-Love, Self-Acceptance, Healing Co-Dependency, and The Alva Method, CLICK HERE to schedule a session with her or introductory Breakthrough call.