Date
Mar 24 2020
- Mar 30 2020
Time
All Day
Cost
DONATION
Clear Your Mind, Elevate Your Energy: 7-Day Online Group Empowerment Class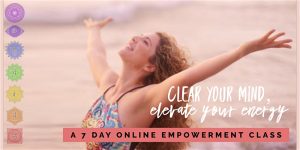 7 Day Online Class to Energize & Clear Your Body-Mind of Chronic Stress, Anxiety, and Overwhelm with Practical Tools For Daily Life.
About this Event
Clear Your Mind, Elevate Your Energy is a 7-Day Online Empowerment Class for women to embody and embrace a free, light and clear body-mind and vibration.
Join Michelle Alva, Certified Life Coach, NLP, Hypnosis and Tantra Practitioner on a FREE Online Class that begins Wednesday, March 25 and ends Tuesday, March 31.
What You Will Receive:
1) A Daily Video will be shared on the following topics and themes to Clear Your Mind and Elevate Your Energy:
3/24 Day 1: Grounding Practices to Feel Safe And Supported
3/25 Day 2: Let Go of The Past and Flow Like A River
3/26 Day 3: Fire Up Your Will and Take Action To Create Your Dream Life
3/27 Day 4: Open Your Heart, Forgive and Expand with Fierce Compassion
3/28 Day 5: The Power Of Your Words, Empower Your Voice, Speak Your Truth
3/29 Day 6: Ignite Your Intuition and Access Your Higher Knowing Se
3/30 Day 7: Embody Peace and Oneness With All
3/31 BONUS DAY 8: At-Home Wellness Rituals with DoTERRA® Essential Oils Class
2) Join Private FB Group and there will be two live classes via Q + A ZOOM Calls on 3/26 Thursday and 3/30 Monday from 8pm-9pm ET
3) Lots of fun elevating your energy with an awesome group of women.
4) Bonus Meditation "How To Create Calm Amidst The Chaos"
5) Option To Schedule A Free Essential Oils Consultation with Michelle Alva after you join this class!
****Investment: Commit 100% To Full Participation
****Love Donation is appreciated for Michelle Alva via Venmo @michellealvasoulconnector