Time
8:00 pm - 9:00 pm
Cost
Complimentary
Clear Your Mind, Elevate Your Emotions with Alva Method + Essential Oils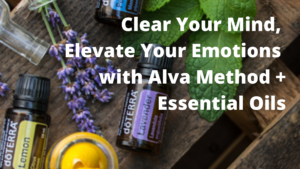 Learn the steps to release stress, anxiety, and emotions that weigh us down with effective, science-based approaches to empower your health.
About this Event
The recent chaos in the world have caused me to ask, what can I do?
What if we all gathered and learned to process effectively our chronis stress, emotions, anxiety, rage, anger, sadness and frustrations? What if together, we decide to manage our emotional state, shift our focus to the present moment, our breath and envision a world with peace, compassion, more respect, and kindness?
Are you an empath, and would like to manage your emotions in a more uplifting way?
Do you feel other's pain and wish you would be able to just that it didn't take a toll on you?
Are you too much in your head, and not enough in your body?
Do you sometimes feel numbed out or disconnected?
Would you like to feel more empowered, connected and whole?
Join me for an online experience where we explore The Alva Method, A process of self-discovery, empoweremnt and meditative practices that integrates mind-body medicine based practices with essential oils to process years of chronic stress in seconds.
LISTEN TO THIS GUIDED MEDITATION TO RELEASE AND OPEN YOUR HEART: https://youtu.be/5ZAbqtRy7Yo
When I passed out a Self-Love Survey, the top reason people wrote WHY they don't love themselves is because they are holding shame and guilt and feel stuck in the past.
Did you know one of the top reasons why we have a hard time being vulnerable is because of holding shame and guilt?
THE RECORDING OF THE CLASS WILL BE Emailed to you if you can't attend LIVE.
You can listen via zoom or phone and all that is required is a headset from the comfort of your home.