Time
12:00 pm - 1:00 pm
Cost
DONATION
Elevate Your Energy + Emotions with Essential Oils Virtual Class Via Zoom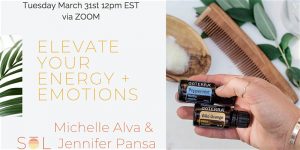 Experience The Benefits of DoTERRA® Essential Oils Class and At Home Rituals to feel clear, aligned and balanced this Spring!
About this Event
Would you like to wake up in the morning feeling more energized and awake?
Do you want to feel more focused and calm throughout the day?
Would you like to be more productive while also boosting your immune system and creating an optimal mood to function in your daily life?
This Spring time is supporting us to clear, to let go and release what no longer serves us.
Essential Oils made by DoTERRA® are natural plant based medicine which can assist us in cleansing our aura, releasing the weight of heavy emotions and uplift our mood so we can process stress with more ease and feeling supported naturally.
Join Michelle Alva and Jennifer Pansa on a self-care journey with rituals to embody more love, confidence and feel empowered throughout the day. You will learn valuable strategies to amp up Self-love and Self-Care for a healthier you!
Come back to the True You, the Clear You, easily and rapidly with these safe, effective and fun techniques!
INVESTMENT: Donation Based Class
Online Class via Zoom.