Touch Of Love Infant Massage Program created by Michelle Alva.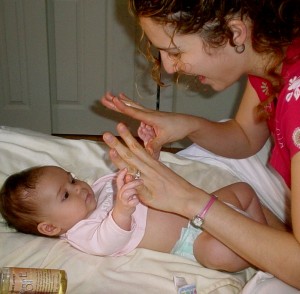 Michelle Alva teaches parents, families, caregivers, teachers, pediatric health care professionals, and children of all ages the art of massage and touch communication.  Massage is a great way to bond with your baby before and after birth with lasting benefits. We learn how to listen, communicate, trust and feel safe in the world through loving touch and massage. Parents learn how to use massage as a form of play, relaxation, and strengthening family relationships.
Researched Benefits of massage: improve attention, IQ, sleep, digestion, growth, focus, immune system functioning, listening & communication skills. Massage is a mutually beneficially activity to reduce anxiety, stress, and depression in our children and teens, which is on the rise according to recent reports in AHCA, (due to our hurried lifestyles and pressures imposed on our children to excel in academic performance without having free play opportunities to release, be creative, active, and express themselves).
This 6 week program meets for 60 minutes.  Please bring blanket for baby.
Parents learn:
•    infant massage: benefits, indications, and contraindications
•    the art of touch communication
•    the art of listening
•    establishing healthy sleep patterns based on current infant sleep research
•    developmental play
•    how to calm baby
•    massage for children with special needs: colic/gas, constipation, ADD, restless sleep, irritability, etc.
•    massage throughout the life cycle, how to change massage as child grows & becomes more independent
•    massage as play
•    how to create a relaxing environment at home using Feng Shui principles
Women create a circle of support and inspiration from connecting with other new mothers.
Cost for 6 class program that meets once per week: $210.
Class is taught by Michelle Alva, PT, Certified Instructor Of Infant Massage.