Would You Like To Have A Close Relationship with Your Intuitive Body Wisdom?

Would You Like To Be More Feminine and Sensual?

Do You Want To Go Beyond Sex To Deeper Intimacy

? 

Is It Hard For You To Let Go And Surrender IN GENERAL?

Would You Like To Feel More In Touch with Your Sensual Body Anatomy (Did You Know Your Pelvic Floor Has 3 Layers?)

Are You Afraid of Opening Up and Trusting?
If you answered YES to any of these questions... 
REGISTER NOW FOR
Begin Within: Experience Deeper Intimacy and Body Connection
4-week Global Tele-Class
New Classes Begin Monthly, 4 Tuesdays Of Every Month
9pm-10:15pm EASTERN TIME
6pm-7:15pm PACIFIC TIME 
 CLASS DATES:
Summer Session: Tuesdays AUGUST 8, 15, 22 and 29
 **BONUS LIVE CLASS : Let's Talk About Sex: The Art and Science of Pleasure.**
WHAT YOUR 4 Week Tele Class INCLUDES:

4 Live Empowerment Calls every Tuesday at 9pm EASTERN TIME/6pm PACIFIC TIME. NEW 4 Week Monthly Class Begins Every First Tuesday

A Recording Is Emailed To You Right After Each Class and You Receive A Weekly Video Lesson

A Sacred Space To Share Your Experiences, Insights and Revelations While Remaining Anonymous On The Call

A Sisterhood of Support When You Join The "BEGIN WITHIN" Private FaceBook Group

WEEK 1: Embodiment Session: Feel Safe, Supported and Surrendered
Do I Feel Safe In My Body? How To Feel Safe and Trust Yourself So You Can Experience Deeper Intimacy and Body Connection.
WEEK 2: Sensual Connection Session: Get In Touch With Your 5 Major Senses
Am I Disconnected From My Body? How To Get Out Of Your Head and Into Your Sensual Body For Deeper Presence, Pleasure and Connection.
WEEK 3: Reclaim Your Sensual Pelvic Power Session: 3 Ways To Uplift Yourself
Do I Know How To Uplift Myself with My Pelvic Floor? Strengthen Your Connection to Your Core and Sexual Body Anatomy.
WEEK 4: Healing At The Speed Of Light Session
Do You Need To Release and Heal Hurts From Past Relationships? Feel Lighter In Your Body with Introduction To Healing At The Speed Of Light.
Week 5: BONUS Session: Let's Talk About Sex: The Art and Science Of Pleasure
Bonus Audio: Clear and Balance Empowerment Lesson
Do You Feel Blocked or Stuck Physically or Emotionally? How To Balance and Clear Your Body, Emotions and Chakras
Bonus Video: How To Live Empowered and Connected To Your Intuitive Body Wisdom

YOUR INTIMACY AND SENSUAL EMBODIMENT GUIDE: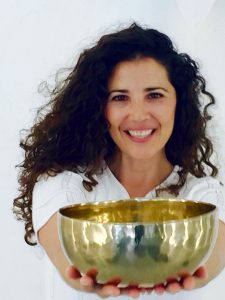 Michelle Alva, Pelvic Floor and Women's Physical Therapist, Yoga Therapist, PSYCH-K® Facilitator & Sound Healer for over 21 years, is a woman on a mission to educate and empower individuals on HOW to heal, live connected, empowered and embodied. She created The Alva Method® of Empowerment and Healing At The Speed Of Light to serve as a catalyst for individuals to create a healthy mindsets and "Major Healing with Minor Effort" in their every day life. Join Michelle's Global Facebook Community HERE. 
 It IS so much easier to experience deep intimate connection in all our relationships once we have created that connection within ourselves.
The more we are present and accepting of all of who we are, which includes a deeper connection to our true essence, our physical and emotional body, the more we will see this closeness and acceptance reflected back in our relationships and the type of people we attract.
If you are ready to dive deep into being vulnerable with yourself, feeling very connected to your intuitive body wisdom and sensual creative energy, register NOW for Begin Within: Experience Deeper Intimacy and Body Connection.
We just finished our Sexy Younger You Retreat on Sea Island Georgia, where we hosted our VIP clients in a very grounding, restorative, rejuvenating and healing 4 day program. We loved having Michelle Alva as our guest for the past two years at our Sexy Younger You Retreats. She is our physical therapist, energy healer, and dance movement specialist. Michelle brings out in women that inner child, that playfulness; she reconnects us to that beautiful, sensual, temptress side of ourselves that just ignites our joie de vivre. She does this through the science and healing art of her practice. She is a physical therapist, so with her bodywork and dance movement work, she really connects women into their feminine again and makes them feel comfortable, while also holding a safe and heart-centered space for us. Michelle is an amazing contribution to our retreats. We look forward to having her at our next one! Thank you Michelle! -

Dr. Anna Cabeca Cabeca Health